Benefit from our free "Move Simply" service
Moving home is a big decision and the process may seem overwhelming at times, especially in a competitive market. But we're here to help.
Our dedicated team of experts will be on hand to support you every step of the way, helping to make your move as stress-free as possible.
We are passionate about helping every customer secure their ideal home, and you will have your very own personal Account Manager who will support you throughout your moving journey with Homewise.
Through our complimentary Move Simply service we can...
Conduct thorough property searches and checks
Arrange priority viewings on your chosen property
Negotiate with agents to secure your new home for the best price
Help you navigate the conveyancing process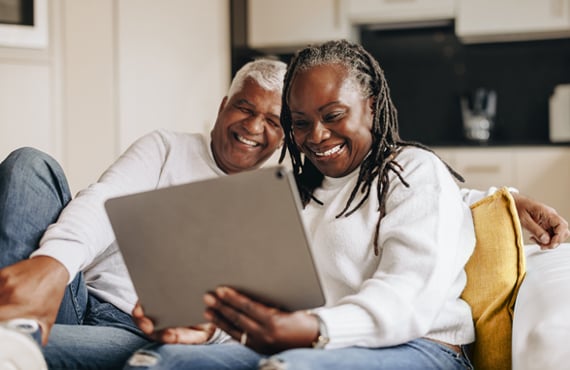 "

I have gone from one small room living with a friend, to the home of my dreams, in a great town. I know Homewise are always there if I need them.

"
"

It helped us to get our home for life sorted out fairly easily with their help, support and experience with the properties in the area. We've now got our new home for life in Cornwall.

"
Your moving journey with Homewise

Step 1 of 5
Getting to know you
From day one we work closely with you, and your family, to explore your needs and how we can help you. Everybody's circumstances, aspirations, and requirements for the future are different, that's why every Home for Life Plan is unique.
By talking through your circumstances and reasons for wanting to move, your budget, your inheritance wishes, and your goals for the future, we'll be able to create a plan that is bespoke for you.
When you're ready, you'll be matched with a personal account manager, and together you'll build your bespoke Move Simply action plan. This outlines the next steps for your moving journey.

Step 2 of 5
Beginning the search
As part of our free Move Simply service, Homewise offers the option to...
Work with our nationwide network of agents to source property choices, some of which may not yet be on the open market

Liaise with estate agents to book viewings (and attend with you if desired)

Research properties and locations, conducting due diligence on the properties you are considering
We'll help you find your perfect property, somewhere you can thrive and achieve your goals.

Step 3 of 5
Getting on the market
When you have a property to sell, getting it on the market is the first key step to moving forwards. Take advantage of our expert knowledge and experience by utilising our team to help you sell as soon as possible. We will...
Perform an impartial market appraisal to give you a clear understanding of a realistic price you could achieve

Ensure you find the right estate agent to help you secure the right buyer

Review the market

React quickly when you accept the offer

Step 4 of 5
Buying your new home
When you've found the perfect property, our expert negotiators will carry out immediate due diligence and act fast to liaise with agents, agree on an offer strategy with you, and put forward a competitive offer. With the goal of securing your next home for the best price as quickly as possible.
Once the offer has been accepted, we can finalise and confirm your Home for Life Plan price, and then Homewise moves into the purchasing stage.
At this point, you will instruct your chosen independent solicitor to advise you on the purchase of your Home for Life Plan. Our in-house Sales Progression team proactively engages with all parties in the chain, including solicitors and agents, with a view to keeping the journey on track and getting you moved into your new home as quickly as possible.

Step 5 of 5
Happy you, happy home
This is the best part when you get to enjoy your new life in your new home. Now is the time for you to unpack, put up your pictures, sort your bookcases, and relax. You can sit back, relax, and enjoy your retirement in your ideal home.
If you decide that you want to redecorate or renovate parts of your home, you can. This is your home to makeover as you wish. Structural changes, like knocking out a wall or adding a new conservatory may need planning permission so, if you are wanting to make changes to the property in the future, speak with our Property Management team who will answer any questions about the process and any works that would require prior agreement, before, during, and after your move.
Read our brochure
Understand how you could benefit from the Home for Life Plan and our complimentary Move Simply service. Plus, read real-life customer stories too.
Take advantage of our experience
worth of property purchased
savings against property price
previous loans & debts cleared
independent customer rating
We've been helping people to find and move to their ideal home for over 50 years.
As a family-run business, we're committed to helping our customers find the perfect home for their future, and create financial security too.
We've helped thousands of people secure their dream homes over the years. Since 2007 alone, we've purchased over £308 million worth of property for our customers, helping them to save £92 million against the full market value, and enabling our customers to clear over £48 million in previous debts along the way!
We'll work closely with you and use our experience, along with our nationwide network of estate agent contacts, to find you the perfect property for your retirement.
* Property purchase, debt value, and customer savings figures relate to purchases made between 2007-2023.
4.7 out of 5 independent service rating from verified Homewise customers via Feefo. All figures correct as at March 2023.
Start your journey now
Calculate how much less you could pay for a property you've seen, or enter your current budget & discover what property price you could look up to, with a Home for Life Plan!
Benefits of using our quick calculator
Takes less than 2 minutes
Optional inheritance adjustment
Instant no-obligation estimate
"Simple to use & a quick way to know what I could afford with Homewise"
Customer Reviews
We pride ourselves on the first-class service we provide but don't just take our word for it.
Take a moment to read what genuine customers have to say about their experience.
Family Values
Mr & Mrs O'Dell, Homewise Customer
The Home for Life Plan has allowed us as a very mature couple to get the type of property that we want.

Without the plan we would still be in our other property, which would make our life a problem.

A big thank you to Homewise for thinking of people as a family.
Stress-Free Process
Mrs Macgregor, Homewise Customer
It was easy to contact Homewise and their staff were unfailingly approachable, efficient and helpful. I particularly appreciated that, at all stages, I had a named representative who I could contact with any queries. Everything was explained clearly, and all communications were prompt. They did their best to resolve any issues, making the whole house purchase process as stress-free as possible.
Peace of Mind
Ms Sanders, Homewise Customer
The support, care and patience through a personally stressful situation.

Homewise service was absolutely first class, I would not hesitate to recommend them in the future.

Homewise have given me security and peace of mind in Retirement.