Research from the National Landlords Association has shown that the number of retirees and older people moving into rented accommodation has increased by 13% in the last four years. Between 2012 and 2016, the number of retired renters soared by 200,000, showing that it's not just younger generations being priced out of home ownership.
According to the research, this increasing trend is driven by three main things: high property maintenance costs, difficulty downsizing and the need to move closer to family and friends. And figures from the first quarter of this year paint a similar picture: 19% of renters are retired, up 3 percentage points from the end of 2016.
Now, renting has many benefits. You have no property maintenance costs and there's a lot of flexibility: it's much easier and cheaper to move as a tenant, rather than a home owner. But there are significant downsides. Rents can rise at any time, there's no security of tenure and current rental costs can quickly eat into savings. The current average rent in the UK is £900 per month. Over ten years, that would cost you £108,000. Even a modest £500 per month rent would cost you £60,000.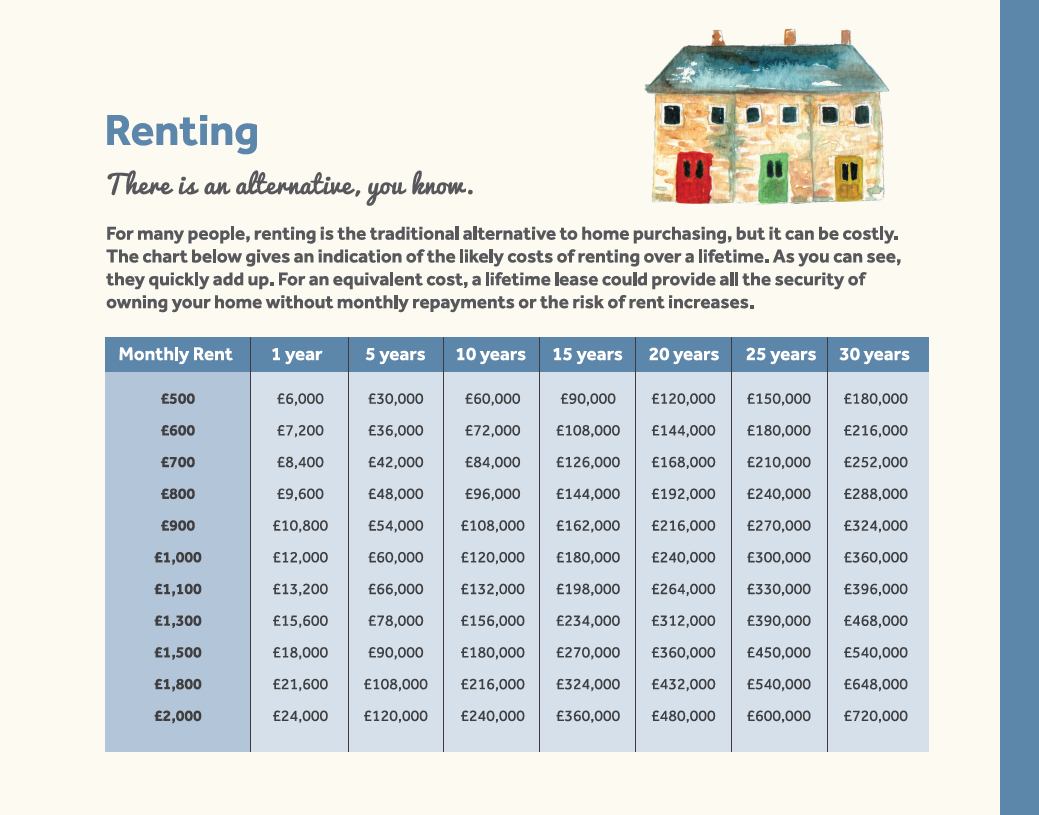 So if traditional home ownership is unaffordable, you might be wondering what the options are? We've helped a lot of people recently who have been in exactly this position. They have some savings or money from the sale of a property, but not enough for the home they want and prolonged renting is just eating away at those savings.
There is an alternative option to renting in retirement, the Homewise Home for Life Plan can be a great option in this situation. Depending on your age, personal circumstances and the property you're looking to buy, you could save up to 59%* off the cost of your next home. This often equates to tens of thousands of pounds and, for many people, this is the difference between an uncertain future in a rented property and a dream home secured for their lifetime. And with no rent or mortgage repayments to boot.
To find out if the Home for Life Plan is the right option for you, just speak to our friendly Customer Service team. They'll be able to explain exactly how the Home for Life Plan works and tailor a quote to your situation.
Alternatively, why not try our online Budget Booster? It's quick, easy, simple to use, and can help you identify your budget in just a matter of minutes!
*Savings range from 8.5% to 59% and depend on the customer's age, personal circumstances and property criteria. Only available to those over sixty years old.