Are you advertising, or thinking about advertising your park home for sale? If you are planning for the future and thinking about your next home, you'll need to know what options are available to you once you've sold your park home.
Whether you have a static caravan or a log cabin home for sale, you may be wondering where the best place would be to put down roots and what type of home should you have. From flats and apartments to bungalows and terraced houses, there are many options if you're considering returning to bricks and mortar - but what can you afford?
You're ready to sell your park home, now you need to understand the options available to help you choose the perfect home for your retirement.
How much can I afford?
First things first, when selling any home, you'll want to understand your moving budget. Working out how much it will cost to sell your park home and how much you may have to fund your next move will enable you to choose the best option for the future.
When selling your park home, your local estate agent can help by providing a property valuation and advertising the park home on the property market for you. Listing your property for sale online offers the fastest way for prospective buyers to see your park home for sale and register interest in buying your park home.
If you sell your park home with an estate agent, you'll need to pay estate agent fees as with any standard property sale. When selling a park home, you should also consider that, typically, around 10% of your sale proceeds will need to be paid to the park home site owner.
Once you have an estimated moving budget, you can then adjust your search to finding the perfect home for your retirement.
What are my options?
You may find that your affordability and your options are limited once you have sold your park home. Not sure what would be the best option for your retirement? Here are 3 ways you can afford your next home.
1. Renting
There are many reasons why someone may choose to move into rented accommodation. Renting in retirement can offer lifestyle benefits, such as flexible moving options as well as reduced moving expenses, however renting is often considered temporary and does not offer security for the future.
While you may be able to create savings when moving into rented accommodation, those savings could quickly dwindle as you pay monthly rent and living costs.
Even if your monthly rent is fixed and will not increase, the table below shows how quickly costs can add up when renting in retirement.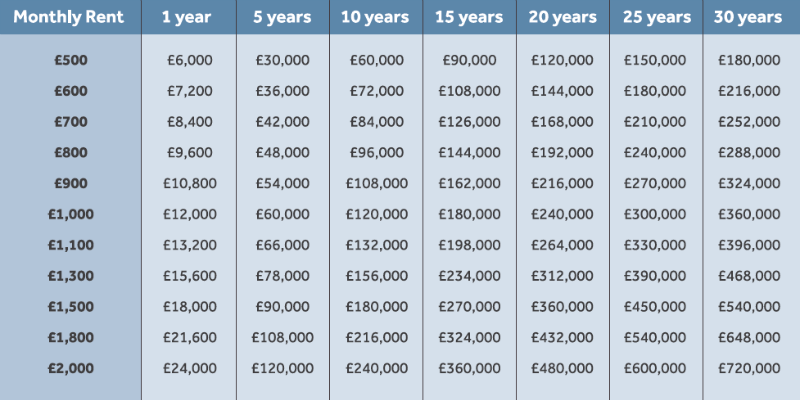 With average rent in the UK being around £900 per month, over ten years that would cost you £108,000. Even a modest £500 per month rent would cost you £60,000. How long will you be able to rent for with your savings?
Rent payments will likely increase over time and, as a tenant in the property, your landlord could decide to sell the property you're living in. If you want to be free from financial concerns and have security in retirement, renting may not be the option for you.
2. Buying
Park homes can offer a cheaper option when moving home in retirement. As you'll know from living in a park home previously, they can offer a community of like-minded neighbours and a quicker purchase process. However, you may have faced restrictions on your privacy and outdoor living space, sound proofing and heating issues, as well as monthly ground rents, and so now are considering moving to a property of standard construction.
When selling your park home, you're likely to be searching online for your next property and may already be dreaming of enjoying retirement in a country cottage, a house by the sea or city apartment. While owning your home can offer security and an asset to leave for inheritance, the cost of buying could take all of your savings and leave you little to enjoy your retirement or set aside for future care needs.
Rightmove's recent House Price Index for March 2019 indicated that property prices are still continuing to rise in the UK, despite the Brexit uncertainty. With property prices in the South West averaging at £300,000 and around £400,000 in the South East, is buying your next home an affordable option?

3. Home for Life Plan
If you're selling your park home and planning for the future, the Homewise Home for Life Plan could be the option for you.
The Home for Life Plan is a lifetime lease option that's available to anyone aged over 60 years old. It's a legally binding agreement that means you pay a one-off reduced price to live in the property of your choice, without any rent, mortgage or interest repayments for your lifetime.
Using the Home for Life Plan means your affordability would be boosted. You could find the perfect home for your retirement at a reduced price, enabling you to pay off debts, free up funds for your future as well as creating an early inheritance if you wish.
Every plan is bespoke and can be used to purchase almost any property in England and Wales at a reduced price, up to 59% off the market price for the property. For the equivalent cost of renting, you could find a more suitable property with all the security of owning your home but not the expense.
While you would not own the property itself, with the Home for Life Plan you have the option to protect and safeguard up to 50% of the property's future value to be passed to loved ones as inheritance. This means you could live in the property of your choice, without compromising your lifestyle and location choices, and pass on a guaranteed inheritance to your estate in the future.
You are protected with a lifetime lease and secure to live in the property for your lifetime. If you're living with another person also named on the lifetime lease and they pass away or move into full-time care, you will remain secure in the property until the plan ends. This would continue to be rent-free and mortgage-free, so there are no financial worries for the future with the Home for Life Plan.
---
If you have a limited budget, living in a park home or rented accommodation are not your only options for your next home. Whether you want to live in South West England, the South East, or anywhere in England or Wales, find out how Homewise could help you retire happy and live in the perfect property for your retirement.
For more information and to learn how much your boosted budget could be, get in touch with our friendly Customer Service team or call 0800 043 4488 today!
In the meantime, you can use our online Budget Booster! It's simple, quick and could provide you with a better understanding of your potential budget.