Homewise Ltd will proudly present the team at Time to Talk Befriending with a cheque for £5,211.39. The local Sussex charity provides amazing befriending services to older people who experience loneliness, and Homewise's support will go towards hiring a new member of staff in Worthing. The amount donated represents the company's overall 2018 fundraising efforts on behalf of the charity, which included 'The Big Blind Run'; a 10K run in pairs where one of them was blindfolded throughout.
The inspiration for the 10K challenge was Bill, a visually-impaired veteran who staff members from Homewise would visit fortnightly as part of their volunteering work with Time to Talk Befriending. Bill is struggling with losing his sight and sometimes feels lonely in his care home. He is like many others that the charity helps with their intergenerational befriending services. The money raised by Homewise will go toward hiring a new permanent staff member, ensuring their befriending services are not limited to Brighton and Hove, but will run in the Worthing community as well.
Mark Neal, Managing Director at Homewise, said of the company's fundraising efforts:
Here at Homewise we're committed to causes affecting the older community and, having spent time volunteering with Time to Talk Befriending myself, I can't think of a greater way to support our community in Worthing. I'm so proud of everyone and the passion and dedication they've put in to raising money for a wonderful cause.
Homewise will be joining the Time to Talk Befriending team at their monthly tea party in Portslade to present the cheque. The older residents in Portslade look forward to the charity's tea parties. The well-attended events provide a relaxed environment for socialising with wider community neighbours and without them, many residents might not be able to meet and enjoy the company of others.
Emily Kenward, Founder and CEO of Time to Talk befriending, will accept Homewise's donation of £5,211.39. Of the company's support, she comments:
The support and encouragement we have received from Homewise has been amazing! Not only did staff volunteer their time to befriend one of our scheme members last year, but they went above and beyond to raise money to help us expand our work in to neighbouring Worthing.

This type of fundraising is invaluable to us as a charity. Most of the money raised will go straight to the front line helping us to continue to build connections and bring a sense of belonging to older people who otherwise would go for weeks or months at a time with minimal or no human contact. Through this huge fundraising activity, we truly are tackling the issue of loneliness together.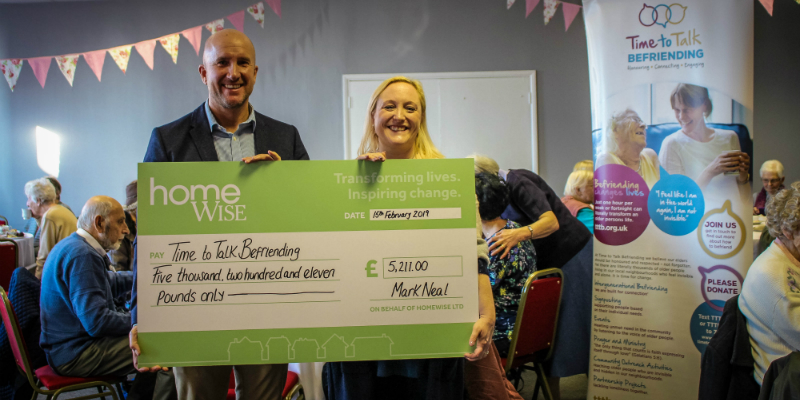 ---
About Homewise
Homewise want to revolutionise retirement in the UK. Their aim is to give everyone, no matter what their circumstances, the chance to retire happy. To have the security of a safe home, free from money worries and free to enjoy that garden for the dogs to run around in and those extra rooms for the grandchildren to stay in.
Homewise has been working in the over 60s property market for more than 40 years and has helped thousands of people move home using their Home for Life Plan. Put simply, they help people find, move and live happily in a house they couldn't previously afford with no rent, repayments or interest for their lifetime.
About Time to Talk Befriending
Time to Talk Befriending is a small local charity rooted in the Sussex communities it serves. The charity offers a personalised model of intergenerational befriending, community outreach and seasonal campaigning, signposting and group befriending across the City of Brighton and Hove.
The charity works with vulnerable older people aged 65+ who experience chronic loneliness and social isolation, working collaboratively with individuals and organisations from different backgrounds, faiths and beliefs to tackle the serious issue of loneliness head on.