Rightmove and Zoopla are the two biggest online property portals and chances are they're both sites you'll be very familiar with, especially if you're planning to move.
However, you may not be aware that both portals have a flexible and helpful filter tool that can help you to refine your property search.
While you're searching, use our FREE handy checklist to help you identify the key features your ideal home should have, including location, size and price!
Filtering your search results and identifying the qualities that you are looking for, including the number of bedrooms and property type, will help you to find the perfect property much quicker. And, if you're under sixty and adverts for retirement property (like ours) aren't relevant to you, you can use the filter tool to easily remove them from the results you see. Here's how you do it.
---
On Rightmove
On Rightmove, once you've searched for properties in your area, click the 'Filters' button in the top right-hand corner of the screen.

This will open the filter options. The key filter when you wish to stop seeing specific types of property is the 'Don't Show' section. To stop seeing retirement properties specifically, simply click on 'Retirement Home' in that section.

On Rightmove Mobile
The functionality on mobile is the same, though the layout is slightly different.
Once you've searched for properties in your area, click on the 'Filter' menu to the top right of the screen (three horizontal lines). To filter out specific items, select the 'Don't Show' drop down and click on 'Retirement'. This will filter retirement properties from your search results.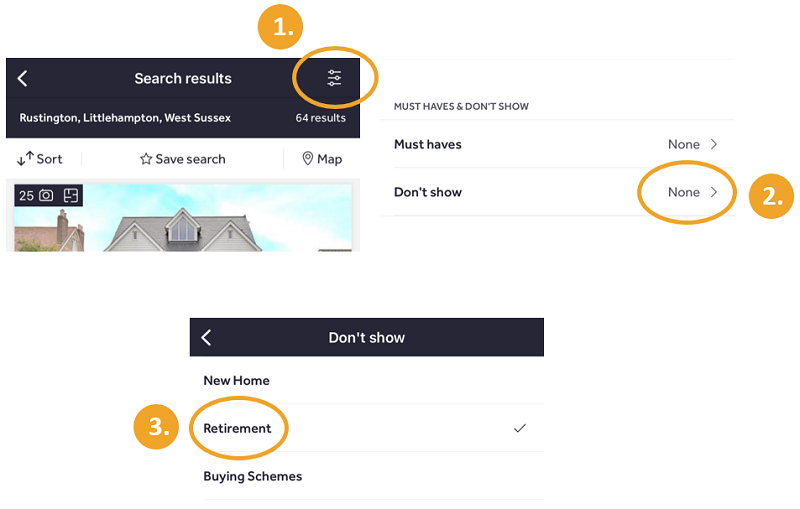 If you're using an Android phone (such as Samsung or HTC), simply click on the 'Filter' menu on the top righthand side of the screen, then select the 'Don't Show' dropdown and click on 'Retirement Home'.
---
On Zoopla
On the Zoopla home page, once you've put your search details in, click 'Filters'.

You'll see that there's a section that says 'Include, exclude & show only'. To stop seeing retirement properties, all you need to do is click this drop-down menu, and then select 'Exclude' option next to 'Retirement homes'. To update your results with your chosen filters, click on the 'Update Results' button at the bottom of the filter menu.

It's also worth noting that Zoopla has a fantastic keyword search tool that helps you search for properties with specific features that you're looking for such as a balcony or a conservatory, for example. It's a really quick and easy way to find properties that match your requirements.
On Zoopla Mobile
Similar to Zoopla on your computer, just click 'Filter' on your search page. Scroll down past the Keyword search until you reach the 'Include' section. Select to include or exclude certain properties by clicking on the slider button next to each one. Anything greyed out will not be included in your search. When you are happy with your filter selection, click 'See results'.

On Android devices the functionality is similar to desktop, with the inclusion of the dropdown 'Include, exclude & show only'. You can exclude, or include the options you wish to see, including 'Retirement homes'. To finalise your selection in the filters, click the 'Update Results' button at the bottom of the menu.
---
On The Market
Another really useful property portal is On The Market. To refine your search results on this portal, select 'Filters' on the page displaying your search results.

In the 'Filters' menu you can refine the results to show or remove specific elements, including retirement properties. Underneath 'Only Show' or 'Don't Show' you can choose whether to view or hide Retirement homes by selecting here. When you are happy with your results, click the 'Apply' button and you will see the filtered results.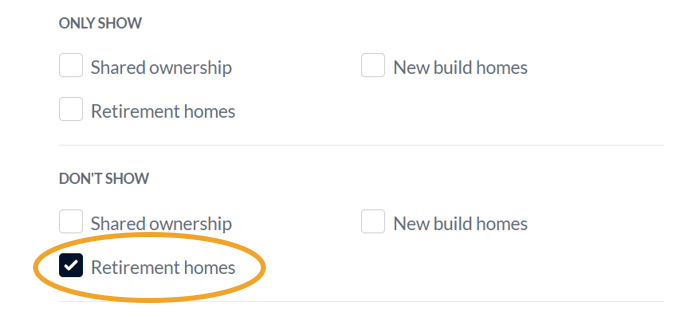 So there you have it. How to quickly and easily refine your Rightmove and Zoopla searches to make them more relevant to you.
Take a look at these free guides (with checklists!) which may help make your move easier too!
---
Need help finding your new home?
The moving journey can be a time-consuming and sometimes stressful one, so if you are in need of more support, we have a dedicated team on hand as part of our free Move Simply service. It's available to all Home for Life Plan customers.
Through the complementary Move Simply service we will:
Conduct thorough property searches and checks on your behalf
Liaise with our nationwide network to find you the perfect home
Arrange priority viewings of your chosen property, both virtually and in person
Negotiate with agents to secure your dream home for the best price
Help you navigate the solicitors and conveyancing process
Support you throughout every step of your move
Let Homewise help you to find your dream home and make the moving process a much smoother one.